Trolls
Do you remember the delightful children€™s story, €œThree Billy Goats
Gruff€? The story told of a Troll who lived beneath a bridge and was
very mean to everyone that went over his bridge. This was one of my favorite stories as a child. If you have never heard of it, I suggest you take time to watch this you tube video of it.
https://www.youtube.com/watch?v=OO-5KgcfHmI
In the early 1960'€™s a Danish Artist, Thomas Dam began to carve Trolls

from wood to sell. These Trolls were an overnight success. Trolls began to be made in vinyl by many manufacturers and continue to be made today. The manufacturer marks are usually on the back of the Troll'€™s neck, bottom of the foot, or in the middle of the back. Many Troll novelty items have also been made: figurines, pencil toppers, calendars, key rings,tee-shirts, charms and jewelry to name a few.
Thomas Dam Trolls
The Dam Trolls are considered the most collectible with Uneeda's
Wishniks and Norfins made in Denmark and distributed in the US by EFS
Marketing of New York, a tie for close second. Many have Made in Japan or Made in Hong Kong as their only identifying mark. Some are simply not marked. Most of the Trolls have plastic inset eyes with amber being the most common color. You can also find Troll€™s with painted eyes and even rhinestones for eyes. The vinyl used to make Trolls can be very heavy (usually the earlier trolls) to very light weight. The skin tones range from tan to a white palor. The hair can be nylon, mohair, or even animal fur and is usually glued to the top of the head. The hair colors are usually very bright and range all spectrums of color.
Clothing made for the Trolls is usually heavy felt or cotton. Some
are not dressed. The most common trolls are dressed in a two piece
boy or girl outfits made from heavy felt. The girl Trolls usually
have a matching ribbon in their hair. There are many extra outfits
made for Trolls and there are even patterns for those wishing to make
clothing for their Trolls. Many Trolls have been dressed as
characters such as: bride and groom, pirates, sailors etc. Some have
molded clothing or painted on clothing.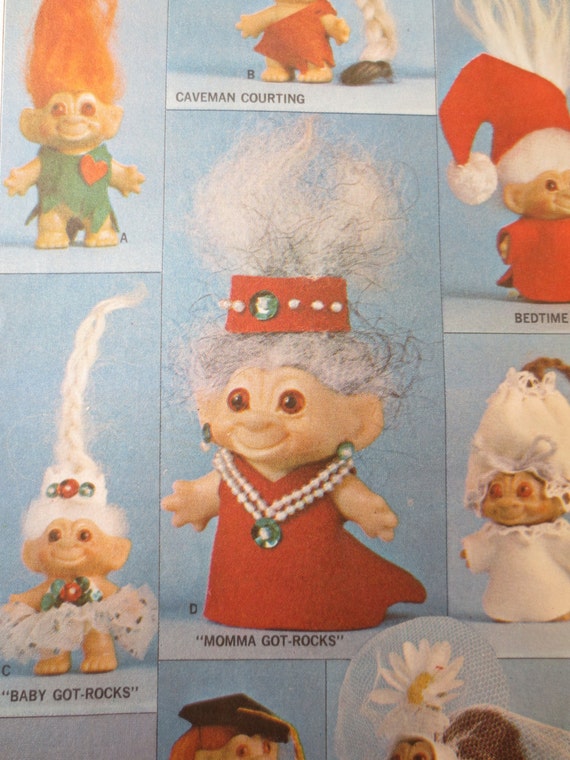 Picture on front of McCalls pattern for Trolls from 1964.
Early Trolls made by Dam, Uneeda and Norfin and Trolls that are still
dressed in their original clothing are extremely popular with
collectors. Also unusual Trolls issued in small numbers also are
sought after. Another popular Troll category with collectors is
animal Trolls and Trolls with two heads.
Trolls and Troll related items can still be very easily found and
they are still undervalued and can be very nice inexpensive items to
collect.
Note from Betty. One of the cutest Christmas displays I have seen
was one using Trolls dressed as elves. The Trolls were dressed in
red and white striped pants and a Santa hat perched on each head.
The pants and hats were made of lightweight felt. The scene depicted
Santa's workshop with all the Troll elves busy making toys. In the corner of the display there were some of the Troll elves decorating a Christmas Tree. Guess what the tree decorations were? The very small inch high Trolls.
This was such a unique decoration and brought a smile to the faces of
everyone that saw it.